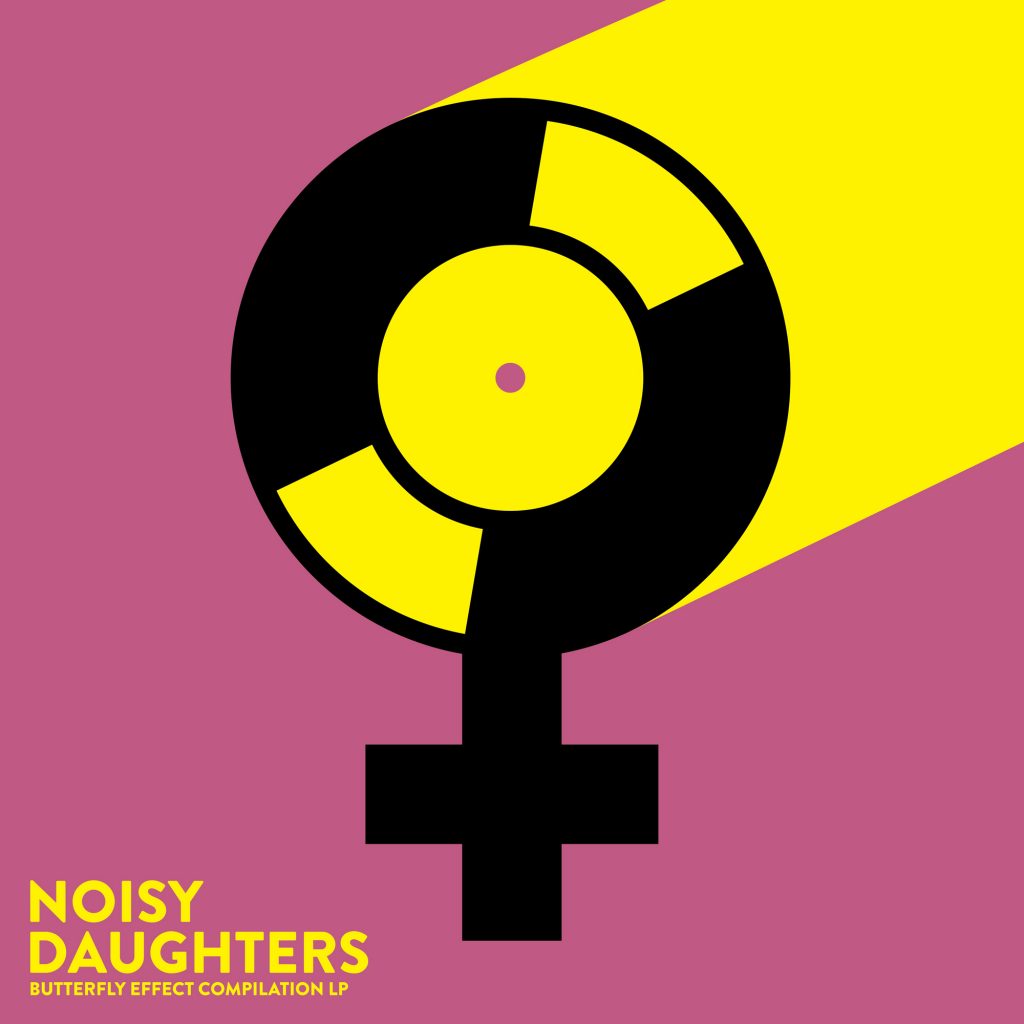 Darlington music collective Tracks have joined forces with North East record label Butterfly Effect and Rianne Thompson (BBC Introducing/Amazing Radio) to curate the North East's first ever compilation album featuring all female artists.

Cut on 12″ vinyl, the album is a continuation of Tracks' Noisy Daughters project that aims to inspire females in the music industry by highlighting women doing amazing things, and offering credible opportunities for participation and growth.

From 2012-2017, a review of the 600 most popular songs showed that only 22% of them were performed by women, and a furthermore shocking statistic revealed that only 12% were written by women.


"Sadly there are still many issues around achieving equality in music, as a female musician and promoter I see this all the time. Through Noisy Daughters we hope to contribute to the change in our musical landscape and hopefully highlight and support female artists where we can" –


Sarah Wilson, of Tracks
All money raised from the sale of the Noisy Daughters Compilation LP will be used to support future female-focused events and workshops in the area.
"It was important to Tracks and Butterfly Effect that we selected artists who showcased the incredible diversity of female artists in the North East. It would have been all too easy to feature a host of acoustic female vocalists playing songs about love, but it was important to us to provide a platform for the cutting edge genre pushers out there whose voice is perhaps not heard as loudly as more mainstream musicians" explains Stephen Gill of Butterfly Effect.

The vinyl features a varied range of artists, from noise punks Blóm and radge popsters GGAllan Partridge, to experimental electronic producer Jennifer Walton. Redcar's own acoustic duo Komparrison and Newcastle hip-hop artist Kay Greyson also grace the tracklist alongside Darlington's urban pop queen Eve Conway and singer songwriter Zararuth, plus Martha Hill brings her brand of hard hitting alt-pop into the mix, topped off with jagged soundscapes from guitar virtuoso Girl From Winter Jargon.

Rachel Gatiss (Girl From Winter Jargon) commented:
"I was over the moon to be asked to contribute to the project; the Noisy Daughters initiative is so important because there's never been a vinyl release quite like this one!"

Sarah from Tracks "We were thrilled with the commitment from local organisations to support Noisy Daughters and make this release possible. Darlington For Culture have provided a grant contributing to the costs of the release along with Butterfly Effect record label, who are always hugely supportive of the North East music scene. There are signs that the industry and people's attitudes are starting to slowly change towards women in music and hopefully our release can add to that narrative"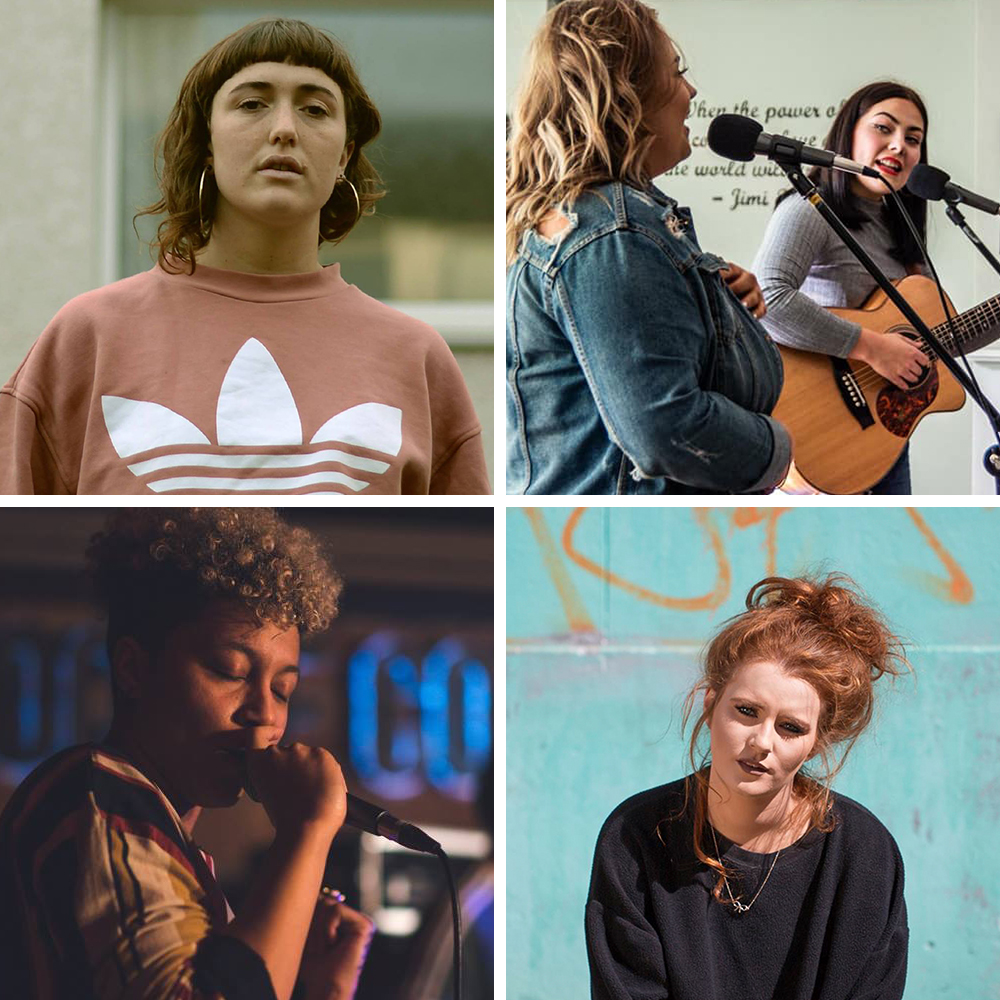 To celebrate the launch of the vinyl there will be a gig at Darlington's Voodoo Cafe on Friday 17th May featuring Martha Hill, Komparrison, Kay Greyson and Eve Conway with BBC Introducing's Rianne Thompson hosting the event. Doors will open at 7.30pm and the first 50 attendees will receive an exclusive bottle of Noisy Daughters beer courtesy of local brewers Saints Row Brewing Co.  Creative Darlington is supporting the live music programme at this event.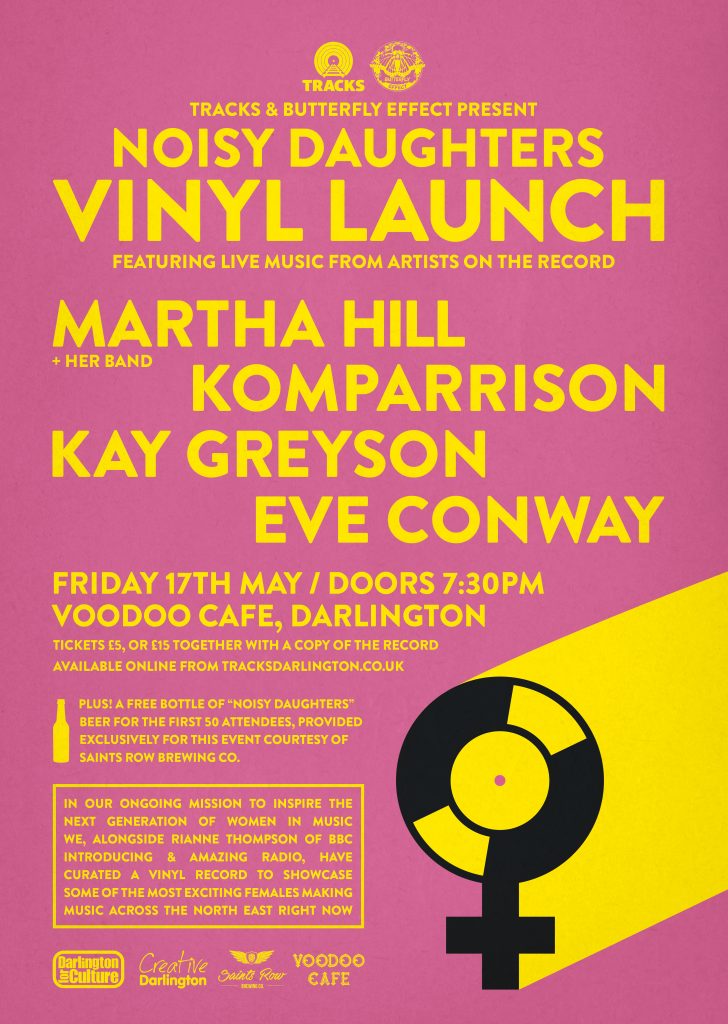 Tickets are available now from www.tracksdarlington.co.uk priced at £5 each, or £15 to include a copy of the vinyl which they can pick up at the gig.
The vinyl is available to pre-order from
https://butterflyeffect1.bandcamp.com/album/noisy-daughters