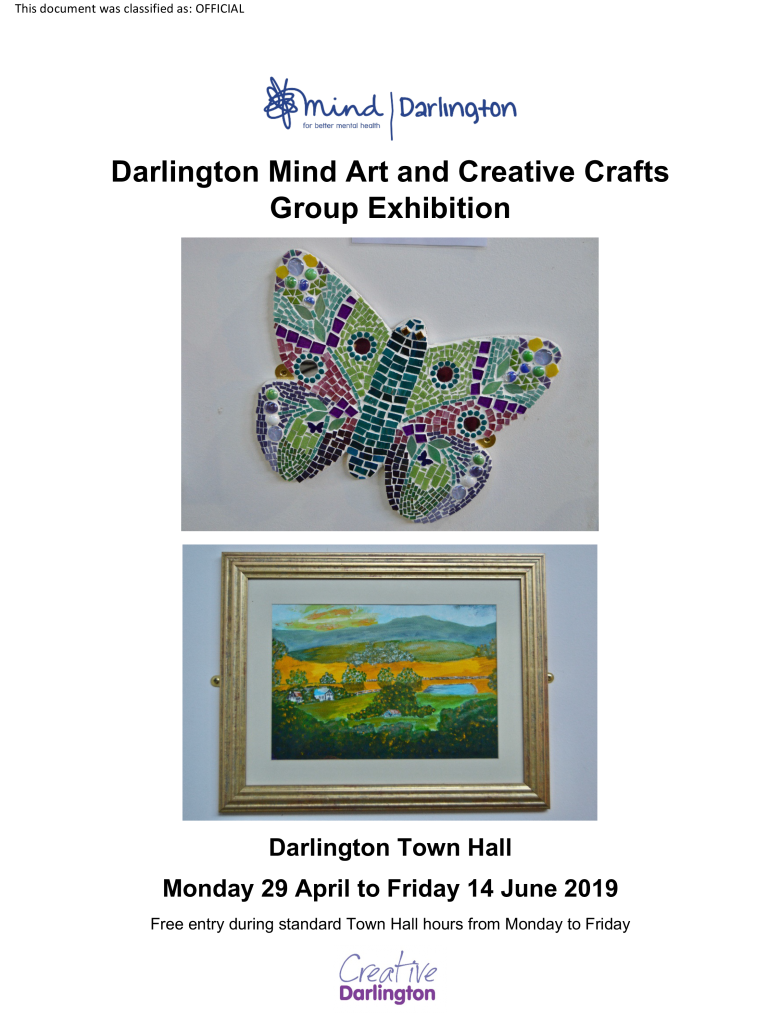 Darlington Mind Art and Creative Crafts Group in collaboration with Creative Darlington is hosting an art exhibition at Darlington Town Hall from the 29th April to 14th June 2019.

Darlington Mind Creative Crafts Group is a safe and supportive environment where people with mental health issues can go to rediscover old talents and learn, develop and explore new skills and to express themselves creatively.

It is also a place to go, to make friends and escape the loneliness and isolation that can be experienced. It is a place to have a laugh, a chat and find a voice in. This helps its members to cope with life's everyday stresses and strains.

Gary Emerson, CEO of Darlington Mind said
"This is a great opportunity for our service users to display some of their exceptional and unique artwork to members of the general public. We would like to thanks Creative Darlington and their team for allowing us to make this art exhibition a reality."

Some work in the exhibition will be for sale.
For further information contact Darlington Mind Ltd, St Hildas House, 11 Borough Road, Darlington, DL1 1SQ or telephone 01325 283169. www.darlingtonmind.com

Darlington Mind is the area's largest voluntary sector mental health agency and provides services from bases in Darlington, Northallerton, Bedale, Richmond, Colburn, Stokesley, Catterick and Bainbridge. With a team of 38 staff and 50 volunteers, the charity provides a range of services for people with mental health problems.