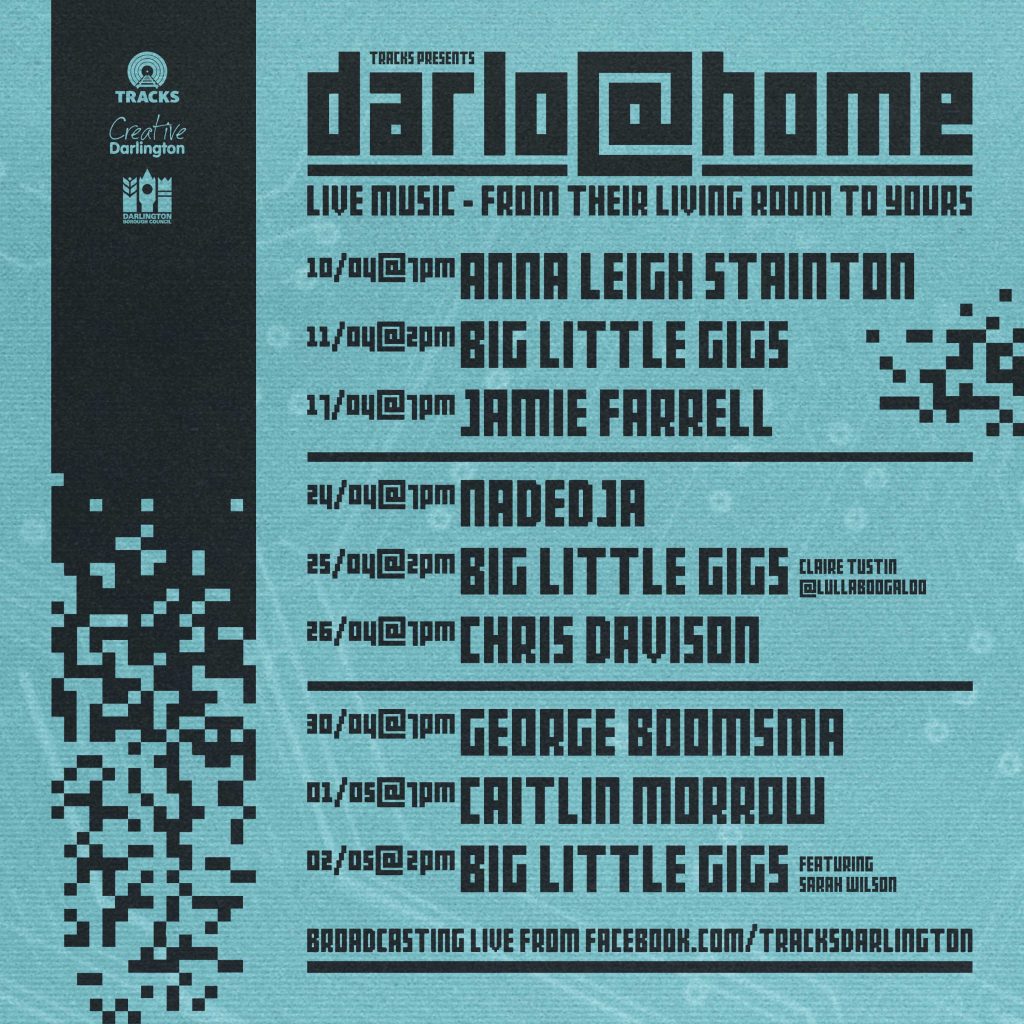 Tracks​ in partnership with ​Creative Darlington ​and​ Darlington Borough Council ​are pleased to announce an additional series of live streamed gigs, bringing a further selection of regional artists to your home in this time of national lockdown.
With measures being extended we felt it was important to carry forward our series of live stream gigs so the people of Darlington and beyond can continue filling their housebound calendars with events to look forward to and enjoy, whilst also helping to keep artists' platforms of expression alive.
After Nadedja's already scheduled performance on Friday 24th, the second run of Facebook live stream sessions welcomes Claire Tustin from Lullaboogaloo to perform a special family gig on Saturday 25th for BIG Little Gigs, with the weekend run being completed by local favourite Chris Davison on Sunday 26th.
The next set of three kicks off on Thursday 30th with George Boomsma, Caitlin Morrow the day after, and the whole series is rounded off on Saturday 2nd with another Silly Song Singalong with BIG Little Gigs' own Sarah Wilson at 2pm.
"We'd never run any online gigs before these, and we've been really pleased with people's responses. It's been so nice having that communication between artist and audience. It's also been great to offer some support to local musicians who are struggling during lockdown"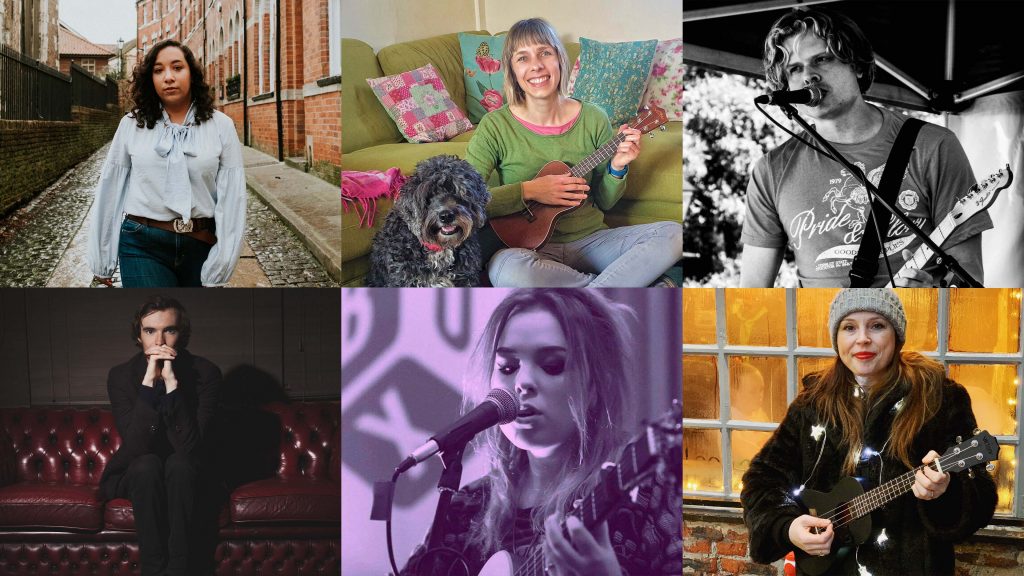 Nadedja
Friday 24th @ 7pm
Born in the North-East of Brazil but now making the North East of England her home, Nadedja's beautiful music combines her soulful, soaring vocals with piano and acoustic guitar-infused melodies, showcasing her honest, raw and heartfelt lyrics drawn from her experiences. Her debut single, 'Fire', was selected as track of the week on BBC Introducing and has been featured on BBC Sounds podcast, 'The Next Episode'.
BIG Little Gigs featuring Claire Tustin from Lullaboogaloo
Saturday 25th April @ 2pm
Join Claire as she live streams her songs for small children. Sing along and have a boogie whilst she sings about mini-beasts, dancing animals, grandmas on roller skates and springtime. If you send her a message mid-gig, she might put your favourite animal into a song! Deely boppers, animal onesies and rabbit ears welcome
Chris Davison
Sunday 26th April @ 7pm
Stalwart of the local music scene, multi instrumentalist and band member of Weekend Sun, Astoma and many more, Chris will be performing a mixture of originals with a few covers thrown in for good measure, all powered by his menagerie of electronic augmentations. Send him some love and he may even do a request or two.
George Boomsma
Thursday 30th April @ 7pm
George Boomsma is a progressive folk musician from Northallerton. His effortless vocals and sensitive guitar playing are achingly beautiful and have received national airplay on Radio 1 and BBC 6Music. This will be a beautiful laid back performance, something special to soothe our souls in these uncertain times.
Caitlin Morrow
Friday 1st May @ 7pm
Sweet songs and heartfelt lyrics, Caitlin's adorable acoustics will have you smiling all stream long, as her delicate voice leads you through some outstanding originals.
BIG Little Gigs: Silly Song Singalong with Sarah Wilson
Saturday 2nd May @ 2pm
Sarah and her trusty ukulele are back with even more silly songs to share with you and your little ones. Grab your shakers and cardboard guitars and join her for songs about friendship, jungles, poems and more!
To access any of the FREE ​darlo@home​ live stream gigs simply tune in to the Tracks Facebook page at the times above, sit back and enjoy!
Our Facebook link: ​https://www.facebook.com/tracksdarlington