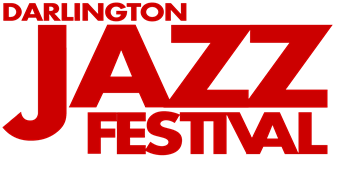 Darlington Jazz Festival Returns for an Eighth Year
Darlington Jazz Festival makes its return for the eighth year this May and organisers have been working in partnership with Darlington Food and Drink Festival to ensure that the bank holiday weekend offers something for everyone.

The jazz festival kicks off on Friday 3 rd May with an 'After Dark' Session which once again will be located upstairs at The Voodoo Cafe on Skinnergate. The charismatic Darlington born- London based trumpeter and composer Matt Roberts, who has recently wowed crowds at
sold out gigs with his BigISH Band at the London Jazz Festival and Ronnie Scott's, will lead his very own sextet playing the music of Blue Mitchell. This gig was a sell out last year, so get there early and take in the jazz lounge atmosphere of the Voodoo Café, before experiencing top class performers pushing jazz to the limit!

Saturday will see local talented musicians playing in various ensembles as they converge on the Joseph Pease performance area to provide an outdoor festival atmosphere. The Northern Monkey Brass Band will be on hand to bring a flavour of New Orleans groove to the proceedings.

Friends of the festival Darlington New Orleans Jazz Club are meeting during the festival at St Augustine's Parish Hall on Saturday afternoon where the New Century Orchestra are joined by special guests' trumpeter Enrico Tomasso and drummer Nick Ward. Five times winner of
a British Jazz award, Enrico is considered to be one of the country's top jazz trumpeters.

Jazz at The Quaker House during the afternoon will feature top class North-East jazz combos including the Josh Arcoleo Quartet, the Milne Glendinning Band and Not Now Charlie. It's free to enter and the atmosphere is always amazing.

On the evening of Saturday 4 th May, the festival moves into Darlington Market Square for its headline event. Leading drummer Sebastiaan de Krom brings his quintet to the festival marquee for a night that is not to be missed. Sebastiaan graduated with a dual degree from Berklee College of Music and went on to study a Masters degree at New England Conservatory. In 1995 he won the prestigious Buddy Rich award and from 1997 to 1999 was the drummer for the renowned Thelonious Monk Institute Jazz Performance Programme. Sebastiaan has performed with artists such as Herbie Hancock and John Scofield, and played regular sessions for Jamie Cullum from 2001 to 2008. The Sebastiaan de Krom Quintet features names well known on the National jazz scene including Martin Shaw (Trumpet), Brandon Allen (Saxophones), Gareth Williams (Piano) and Steve Watts (Bass).

On Sunday morning festival goers can enjoy a relaxed brunch at Hash Bar to the gentle sounds of Gypsy Jazz with Emma Fisk and Dave Harris and Strings Attached. Sunday will once again see various ensembles including the best of Darlington's young musicians converging on the Joseph Pease performance area to provide an outdoor festival atmosphere.
St Cuthbert's Church provides the venue for Sunday afternoon's activities with music from Triptych and Darlington choirs with guest Aga Serugo-Lugo. Paul Edis's Triptych Trio brings a diverse repertoire and extensive experience to create new interpretations of old standards alongside new compositions, often with a subtle rhythmic twist. Their melodic, lyrical style
will be ideally suited to the venue's atmosphere. As a clarinettist, saxophonist and singer, Aga Serugo-Lugo has had the opportunity to explore many different styles including classical, jazz, soul, and funk. Professionally, his style of choice is jazz, which Aga has played
across London with an eclectic mix of groups. Aga has done much work with Sing-up, the national singing strategy, allowing him to work with a variety of age groups and diverse levels of ability.

The Festival concludes on Sunday Night with a grand finale and party atmosphere as the Durham Alumni Big Band welcome you to go back in time and celebrate those who were "Born in the 1980's". Matt Roberts directs the DA Big Band in a fun nostalgic gig featuring popular themes from his childhood. The Durham Alumni Big Band was formed in 2007 and
features top musicians from the North-East and surrounding regions. Former winners of the Great North Big Band Festival they have worked with top jazz artists including Al Wood, Dave O'Higgins, Dennis Rollins, Mark Nightingale, Julian Siegel and many more.

Shaune Eland, Darlington Jazz Festival organiser, said:
'The enjoyment of the festival has grown year on year for performers and audiences alike, and we hope that this year will be no different. We're excited that we have been able to team up with Darlington Food and Drink Festival and offer something special to suit all tastes.'

Darlington Jazz Festival runs from Friday 3 rd May to Sunday 5 th May 2019. Full details of the festival line up and ticket information can be found
at http://www.darlingtonjazzfestival.co.uk/
Darlington Food & Drink Festival runs from Friday 3rd to Monday 6th May 2019. Full details of the festival line up and events over the Bank holiday can be found at https://www.facebook.com/events/1120122881474278/