"I found Lady Kitt's approach in working with members of the public and my colleagues was exemplary, inclusive, sensitive, distinct and enriching.  The residency was diverse, energetic, fun; I didn't know what would emerge, but felt I knew it would be part of a journey of discovery for all involved, which was exciting and refreshing.   At the same time, it was great to see beautiful, colourful and rigorously original and non-generic work emerge. The "Darlo to Boro" project helped build my understanding of where there are gaps and different levels of representation in the stories of local people. I consider it a great example of how people can be creatively engaged within public spaces and encouraged to share their thoughts and to picture new territory together."
Stephen Wiper, Creative Darlington Manager
"It was important that we worked with someone who could engage audiences and understand more of how local people want to work with artistic and cultural space. Through their use of performance, workshop and participatory play, Lady Kitt worked alongside local people in a way that was new and innovative for us. They brought a vitality to the project, introducing us to new audiences. The festival earned a new perspective because of Kitt. "
Anna Byrne, Co-Director of Middlesbrough Art Weekender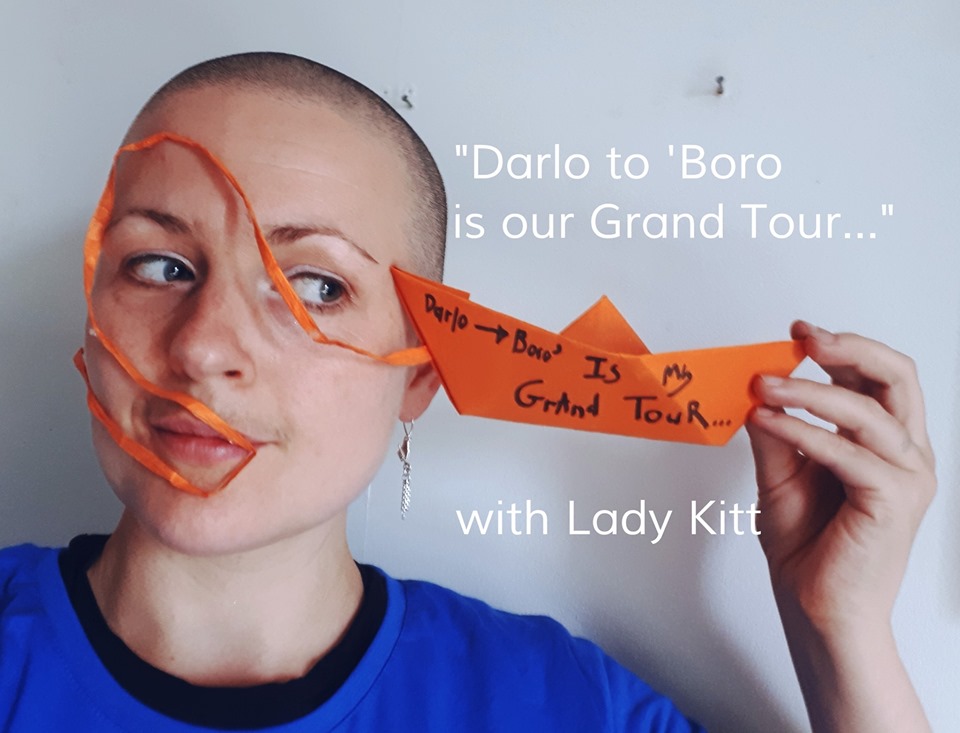 Darlo to 'Boro is our Grand Tour with Lady Kitt Residency at Crown Street Gallery and Darlington Library & Archives. August, September 2019
A socially engaged project as part of Middlesbrough Art Weekender, co-commissioned by The Auxiliary and Creative Darlington.
​
As a starting point we used:
The title / theme / provocation "Darlo to 'Boro is our Grand Tour" – exploring the idea that cultural life and heritage in the North East can be just as [if not more!] exciting, rich and diverse as the 18th century "Grand Tour". Within this, considering the complexity of the inherited privileges of our cultural/ social spaces [museum collections, art, architecture, libraries], many of which were paid for by profits from slavery, colonialism and pits /mills with very poor regard for human safety or dignity.
​

The project included:

Workshops

Collaborative making

Research

Creating a "Mind Ur Manners Manifesto"-recommended behaviours in and for useful public space

Interactive drag performances

Film making

Creating a big pink book which will become part of the Darlington Archives*

An expedition

Lots of chatting
We initially created a 3d map (made from paper) of public spaces in Darlington.
The map was a collaboratively made, participatory installation inspired by items from the archives, stories we told (and were told) about our town, written questions / observations about the social and cultural life of Darlington, the North East and connections (social, emotional and cultural) between Darlington and Middlesbrough.​
The map "grew" out of the floor of the gallery over the course of the residency. The locations which appear were all by suggested (either via social media or in person) by people who have a connection to Darlington.   Over the course of the residency three things kept coming up:
1. The relationship between Darlington and other places in Tees Valley.
2. The where abouts of "Fred", the much loved taxidermy polar bear, former resident of the (now closed) Darlington Museum.
3. The lack of LGBTQ+ spaces in Darlington and the complexities of searching for queer history in the archives.
​
In order to explore the 1st two of these things further and (hoping) to find "Fred", it was decided to send Kitt on an expedition from Darlo to 'Boro, via train. Artist Sarah Grundi-Li made this film of their adventures:
In order to document observations regarding the 3rd point, celebrate the LGBTQ+ space that do exist and insert some of our own queer history into the archives, we have created a big pink book, which will, hopefully,  become part of the archives in Dec 2019.
This book contains a Map of Darlington: A fold out, interactive, collaboratively made, ever changing Map. A Map which charts (bits of) our history, our present & our imagined futures. Here you can find places of interest, ideas, emotions, expeditions, connections. The Map was started in August 2019 as part of this proejct. We hope it  continues to evolve for many years to come…
Instructions for book:
Unfold the felt base, unwrap the paper buildings, (re) arrange

Use templates/ luggage labels to add new / old / imagined buildings, memories, thoughts

Explore, enjoy, share
Please note:
Don't remove items; if you feel an item should not be included, write your thoughts on a label and pin to a relevant point on the Map

If you add to the Map, please add your name to the "scroll of makers"

Carefully replace all items after use
Contents:
Felt Map
Paper buildings
Template
Paper for making new buildings
Scissors
Tape
Luggage labels
Pins
Pencils
Scroll of makers
​All aspects of this project have been collaboratively made by a self selecting group of around 50 people aged between 18 months and 83 years old, from (or with a connection to) Darlington. Of those, the following people wished to be credited as Co-authors:
Co-authors*:
Evie Swain
Vaibhavi Thulasseedas
Ron Taylor
Tracy Whittington
Ann Cuthbert
Carol Greenwood
Ruben
Andi Cull
Cole
Tasha Golding
Michelle Haigh
Sophia Suggett
Luicia Suggett
Penny Whitfield
Kath Whitfield
Sir David
Lilly Ballan
Aimee Ballan
Further information about Lady Kitt and their other work can be found www.lladykitt.com