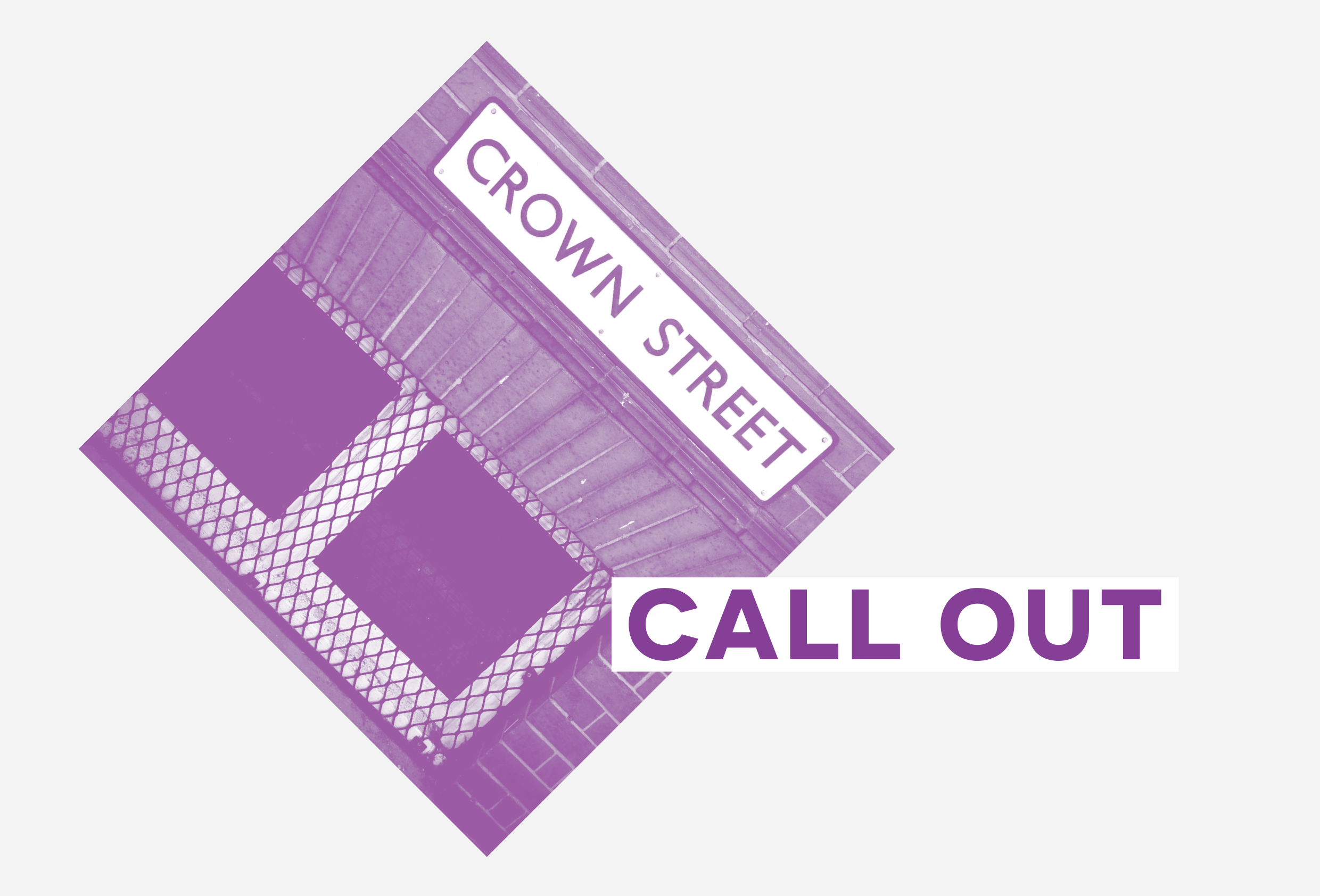 In February 2019 Creative Darlington ran a call out for artists to submit works to be selected for display in and around the Crown Street Gallery. Over 100 artists applied for the opportunity from a variety of disciplines. A selection panel, led by Creative Darlington and including artists, selected 5 artists' works to be fabricated and displayed for audiences to view from the exterior of the gallery space. The intention of this display is to both showcase the talent of artists in the North East region and to highlight the location of Crown Street Gallery, within Darlington Library on Crown Street. Here are further details of the artists selected and their approach.

Phil Gatenby
Object 3, 2015.
Acrylic o/c, 20 x 16 inches
Starting out on a new painting idea begins with a ritually imposed tactic: the intent to avoid pictorial narrative, habitual semiotics and populist kitsch, sufficiently so to allow the fluidity of figure and ground to be convincingly stilled. The intrigue for me is all about the act of making and the materiality of paint, favoured for its capacity to be mutable, malleable and eventually yielding. Resolving a work is always about being settled with what the work is saying or doing when subject and object coalesce. Figuring theory occupies a de facto role as studio furniture. My studio work in painting is entangled with the legacy of de Stijl through its affirmation of spatial concerns for the modernist grid and thereby its resistance to narrative. I am heartened to think the act of painting in 2019 confers usefulness through its resistance to being numbed by historicism.

Stuart Langley
Neon and Glass, 2018.
Neon, glass from The Bowes Museum collection (created as part of the #untitled10 residency with The Bowes Centre) Photography: Michael Wood
Stuart drives a varied practice output as public realm works which consider light, colour, neon, sculpture, digital and interactivity. Uninhibited by new process and materials, collaboration is a key part of realising ideas which respond to the specifics of site and project.
Having worked as a commercial graphic designer for over ten years, he applies a strong understanding of visual language and composition to artistic presentations which focus on audience experience in asking us to reconsider ideas of the everyday. An ongoing interest with ideas of fantasy and utopia found in theme parks and coastal resorts drives him to realise work which interrupts convention and questions purpose.

Brian Lee
Roseberry Willow Pattern, 2015.
Digital Vector Image One of Teesside Tales series of images.
"Roseberry Willow Pattern" is one of a series of images, re imagining Roseberry Topping in a variety of graphic styles, but has now broadened out to encompass the greater Teesside area in this way too. It is part of the Teesside Tales series.
These are all places that were significant to me as I grew up in this area but, I always imagined there was a lot more going on in those places. I like to produce these images in a variety of media both traditional, such as watercolours, and digital techniques. This is an ongoing project and runs alongside my freelance work.

Jenni Thirlwell
Preservation, 2018/19.
Linocut on cotton, monoprinted leaves, cotton fabrics, Hawthorn Printing inks, DMC & Anchor embroidery threads.
Jenni is known for her embroidery and printmaking, specifically linocuts. Her work usually has a dark and somewhat sinister undertone, as she has taken her influence from both Classic Horror films and Film Noir while often combining them with nature themes.
Preservation looks at the symbolism of the ram as a protector to its surrounding environment, preserving what is there and what is slowly being damaged in other areas by humans, the skull also represents this as death that is feeding life. Jenni studied Fine Art at Teesside University.Jenny is an active member of the Gilkes Street Studio, Middlesbrough.

Aimee Suggitt
Fur, 2018.
3D rendered image
We are living in a civilisation that is compelled to depend on new technologies, and there's little doubt that we have become so dependent on technology and the internet that our engagement is altering the way we engage with the world around us. We are indulging ourselves in the online world -satisfying certain parts of our lives that reality can no longer please. We have become addicted to the pleasures of the digital domain, transporting us deep within the online realm where the virtual bleeds into our reality.
My work is dedicated to the understanding of our virtual existences,focusing on the so-called freedom or liberation that it proposes, the social and political issues that have been moulded into the online realms, and cross- examining the fine line between the digital realms and physical realities.
instagram.com/aimeelouisesuggitt_
We are currently in the process of fabricating the final artworks, which will be showcased around Crown Street Gallery and Library building.