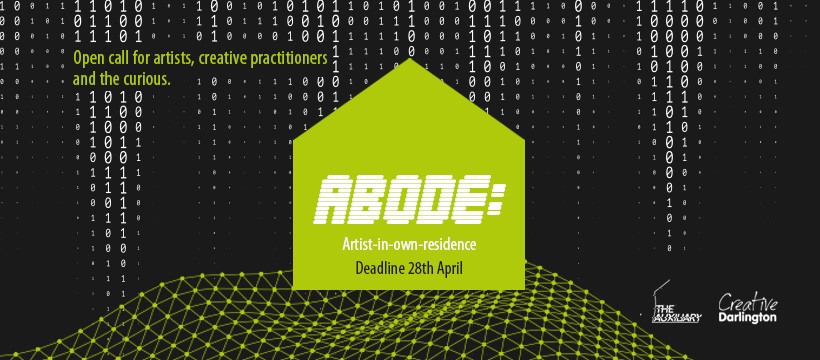 Open call for artists, creative practitioners and the curious.
The Auxiliary have teamed up with Creative Darlington for our next round of ABODE, an artist-in-own-residence programme. For this project we will be offering five mini-grants of £200, with the hope that it encourages artists to develop new skills and to consider new approaches to their creative practices.
The open call is simple. Select a free open source programme from the list below, download it, install it and start learning, experimenting, succeeding, failing and creating.
There is a lot to play with here, whether its creating music in Pure Data, 3D sculptures in Blender, crazy visuals in VVVV or even turning your Skype into something fun with the green screen function of OBS… the possibilities are truly endless.
At the end of quarantine, we will invite everyone to share the work with The Auxiliary and the wider community. Along the way we will also encourage artists to send in what they are working on and share it online.
The four programmes to choose from are Blender, VVVV, Pure Data and OBS Studio.
Blender is a 3D computer graphics software tool-set used for creating animated films, visual effects, art, 3D printed models, motion graphics, interactive 3D applications, and computer games.
VVVV is a general purpose toolkit with a special focus on real-time video synthesis and programming large media environments with physical interfaces, real-time motion graphics, audio and video
Pure Data (Pd) is a visual programming language for creating interactive computer music and multimedia works.
Open Broadcast Studio (OBS Studio) is a free and open-source software suite for recording and live streaming. OBS provides real-time source and device capture, scene composition, encoding, recording, and broadcasting.
During this residency, we will host a number of live Q&A sessions with experts in the aforementioned programmes, taking inquiries about the programmes. Even if not successful with receiving a grant the Q&A will be open to the public and we do encourage everyone to explore the above programs as they provide a wealth of exciting possibilities.
Apply By: 28th April, 2020
Open to DL postcodes only.
Single A4 Page Application emailed to theauxiliaryprojectspace@gmail.com
Please include the following:
1. Artistic Practice Description.
2. Which programme who will work with.
3. Rough idea of the project's ambition.
4. Links to previous work.
5. Website.
Creative Darlington is a partnership of organisations and stakeholders who share a passion to strengthen and sustain a vibrant cultural offer for Darlington. Our work is focused on arts and heritage and informed by the principles that the culture should be available to everyone, bring people together and champion inclusion and social cohesion. We value excellence, by which we mean striving to be the best of which we are collectively capable and finding ingenious ways to take things forward.
To find out more about Creative Darlington see https://creativedarlington.org.uk/