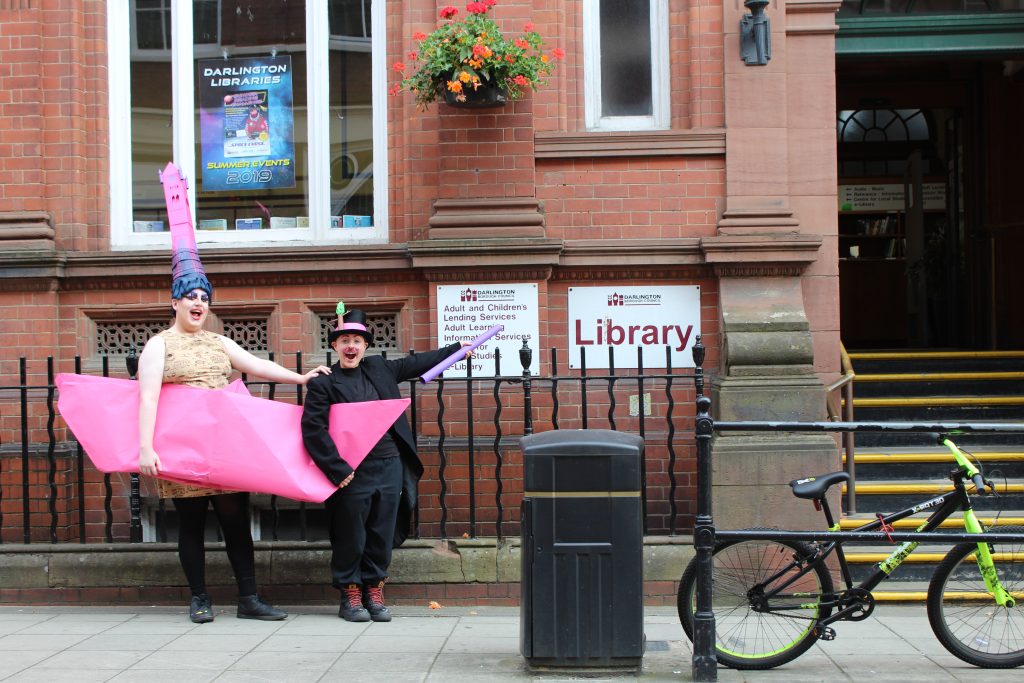 During Aug and Sept 2019, Lady Kitt is Artist in Residence at Crown Street Gallery and Darlington Library & Archive as part of Middlesbrough Art Weekender, Supported by Creative Darlington. Here is some further information from Lady Kitt about their approach and ways in which you can get involved
As a starting point I am using:
The title / theme / provocation
"Darlo to 'Boro is our Grand Tour" – exploring the idea that cultural life in the North East can be just as [if not more!] exciting, rich and diverse as the 18th century "Grand Tour". Also, considering the complexity of the inherited privileges of cultural and social spaces [museum collections, art, architecture, libraries] we have in the North East, many of which were paid for by profits from slavery, colonialism and pits /mills with very poor regard for human safety or dignity and who may be excluded from spaces considered to be public
The floor in the Crown Street Gallery
A massive pile of paper
I'm initially creating a 3d map (made from paper) of public spaces in Darlington. The map will be a collaboratively made, participatory installation including physical objects made of paper, items from the archives, written questions / observations about the social and cultural life of Darlington, the North East and connections (social, emotional and cultural) between Darlington and Middlesbrough.
I imagine the map will "grow" out of the floor of the gallery. The locations which appear on the map will all by suggested (either via social media or in person by popping into the gallery- please see below for times I'm around) by people who have a connection to Darlington. Locations can by physical or imagined. Physical representation of the locations will be made by me and anyone else who fancies joining in. I am particularly interested in hearing about queer space, accessible spaces and spaces which might exist in the future.

Everyone involved (in making / making suggestions) will be credited as co-authors of the work.
This could be a starting point which develops into something completely different or could form the basis of the final event/exhibition/celebration. I imagine the work will reference the history of the town/region (through exploration of the archives), the contemporary life of the town / region and our imagined futures. I guess it will also draw on my experiences of growing up near Darlington and my changing perceptions, now returning as an adult.
If you'd like to pop in for a chat / a cuppa/ a make/ a biscuit, I'm in the gallery:
Aug
Thurs 15th 10am – 1pm
Mon 19th 10am- 1pm
Weds 21st 11am- 2pm
Weds 28th 3-6pm

Sept
Mon 2nd 3-6pm
Weds 4th 10am-1pm
Mon 9th 10am- 1pm
Weds 11th 10am- 1pm

Directions to the gallery and access info HERE

If you would like to make any suggestions about possible locations please email me at lady_kitt@lladykitt.com with the heading "Darlo to 'Boro location"
On Sat 19th Sept there will also be a sharing event about the residency as part of Middlesbrough Art Weekender. Further information about the event can be found here.