The second ever Middlesbrough Art Weekender ran from 4 – 7 October 2018 and took on the idea of connectivity (lots to work on there currently).   I understand some of the artists involved had committed time in advance of these dates exploring and engaging with The Auxiliary and with people and places in and around Middlesbrough collecting information for their art.  This Weekender felt bespoke, committed, exploratory and fresh as a result to me.  I expect the Weekender wouldn't have had all this energy and excitement without the vision of its organisers and their commitment to  engaging with talented artists, encouraging exploration, developing connections and networks for the visual arts, beyond these days.
I travelled to the opening on the evening of Thursday 4 October by train. On arrival first stop was the Looking Down exhibition by Francesca Simon at Platform A gallery which runs until 15 November 2018. I found this exhibition beautiful and original, and I was impressed by the rigorous approach, the thorough and uncompromising investigation of perspectives, pattern and material, beautiful colours and construction within the work. I'm familiar with the impeccable presentation of exhibitions at Platform A and the friendly welcome there, but it was nice to experience this as part of a Middlesbrough wide programme involving 15 locations running over four days.  From Platform A I had a further look at Suzy Devey's exhibition of linocut and drypoint portraits in The Tunnel Gallery (colourful, thought provoking, informed, illuminating, insightful).  Next I found the Warehouse(s) on Station Street.  On Thursday night and Sunday afternoon I saw installations, exhibitions, performance, group activity and creative practice in a variety of media, with some pieces presented inside buildings various and others outdoors or visible from the street.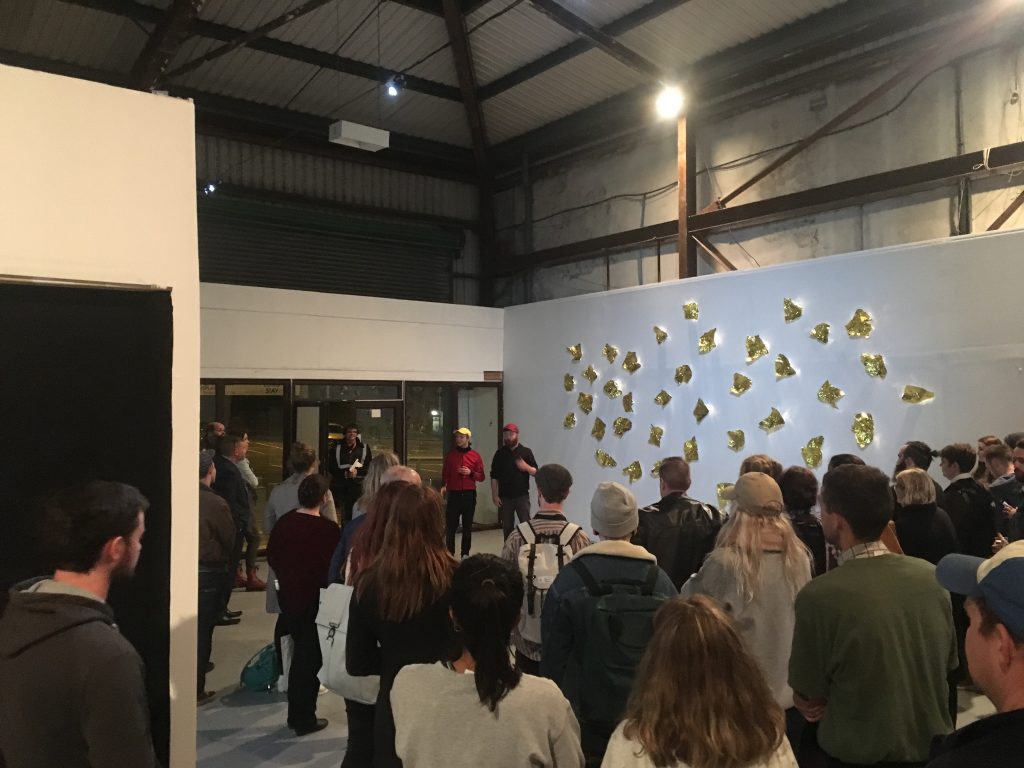 During this year's Weekender I visited Platform A, The Tunnel Gallery, Warehouse, Middlesbrough Town Hall, MIMA, Hill Street Centre and Captain Cook Square.  There were other locations I never made this time.  Common to all I visited was the warm welcome, the care and attention applied to production and the fact that the visual art I saw felt original, current and that it needed to made and shared, both in dedicated galleries/venues and pop-up spaces.
I was delighted to see crowds gathered in The Warehouse for the various performance pieces I came across, to hear voices from near and afar, and to see visual art which made me smile, delight, ponder, think anew and question.   The Warehouse was eye-catching and a delight of the programme overall was the way in which those involved had responded to, worked with and utilised some very diverse settings.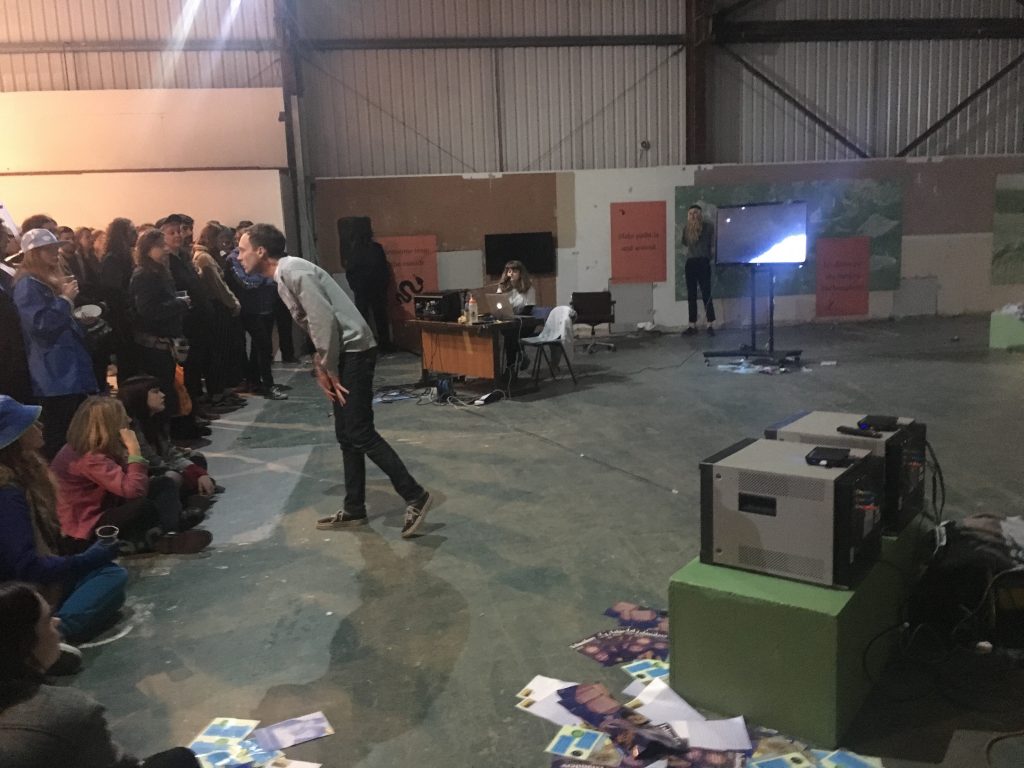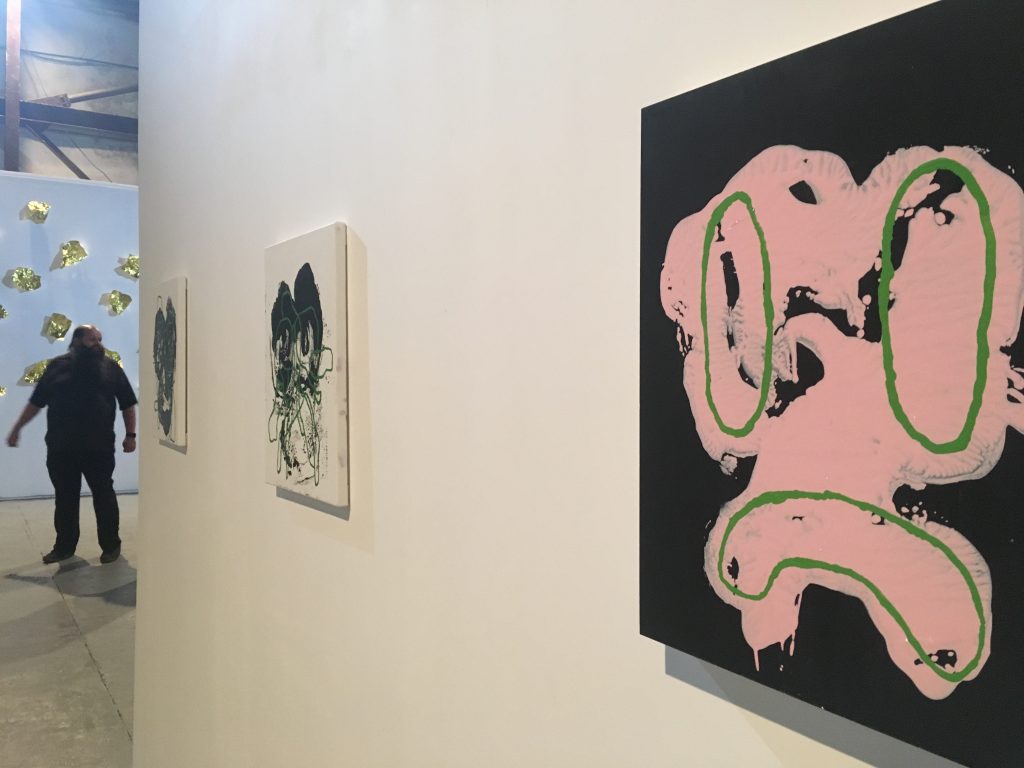 I was struck on Sunday by how well the space upstairs in Captain Cook Square and the street level space in The Hill Street Centre worked, by the quality and depth of the NE Open Call exhibition at mima (I loved the painting by Oliver Hoffmesiter) and of the installations within the former cells at Middlesbrough Town Hall.  It felt exciting to explore above the shop floor in a unit on Captain Cook Square, artwork held real sway, gravitas and beauty there.  I found the GOLDTAPPED group exhibition bold, mature, beautifully resolved and cleverly presented, to me it felt like a fantastic conjunction of space and function.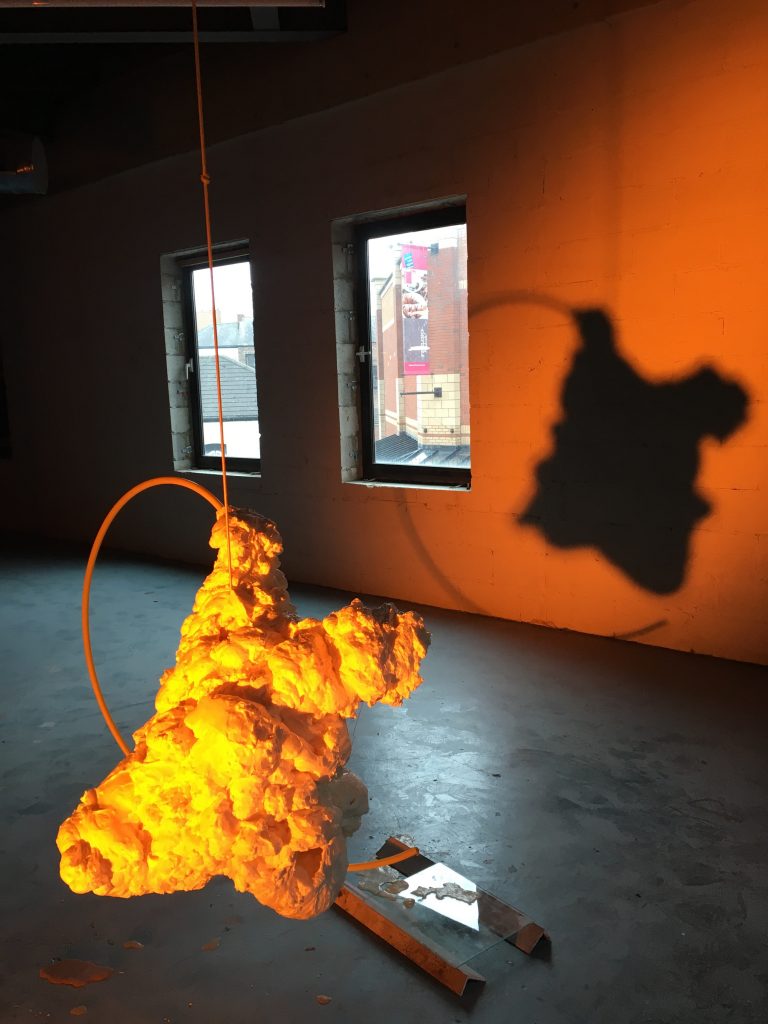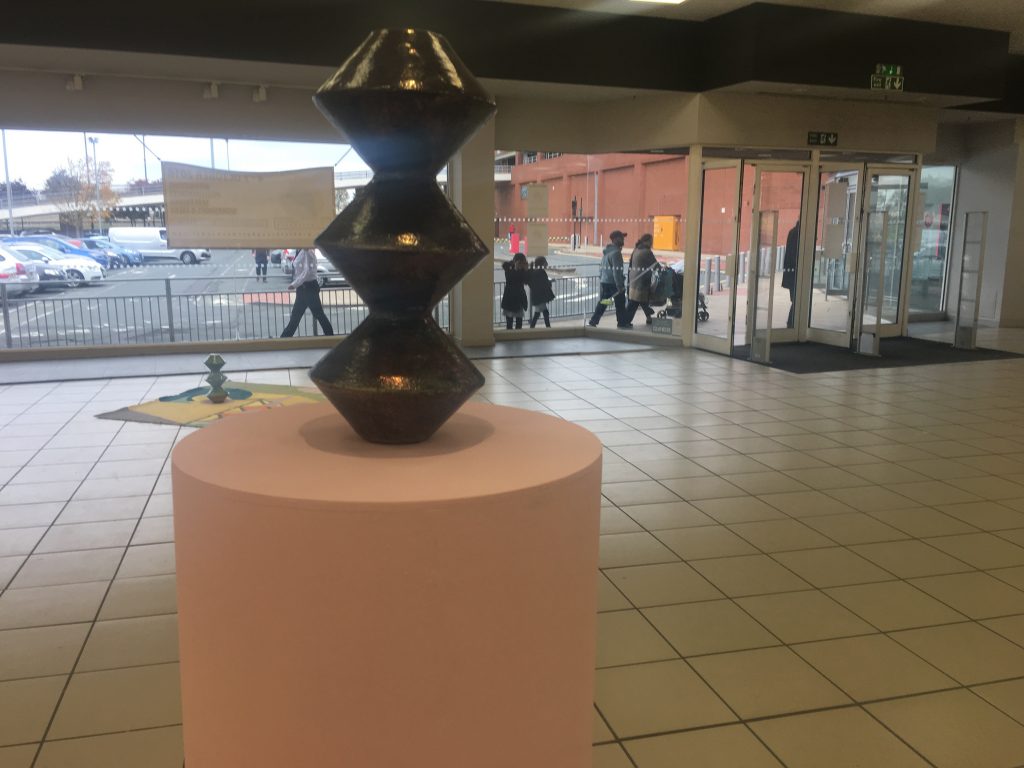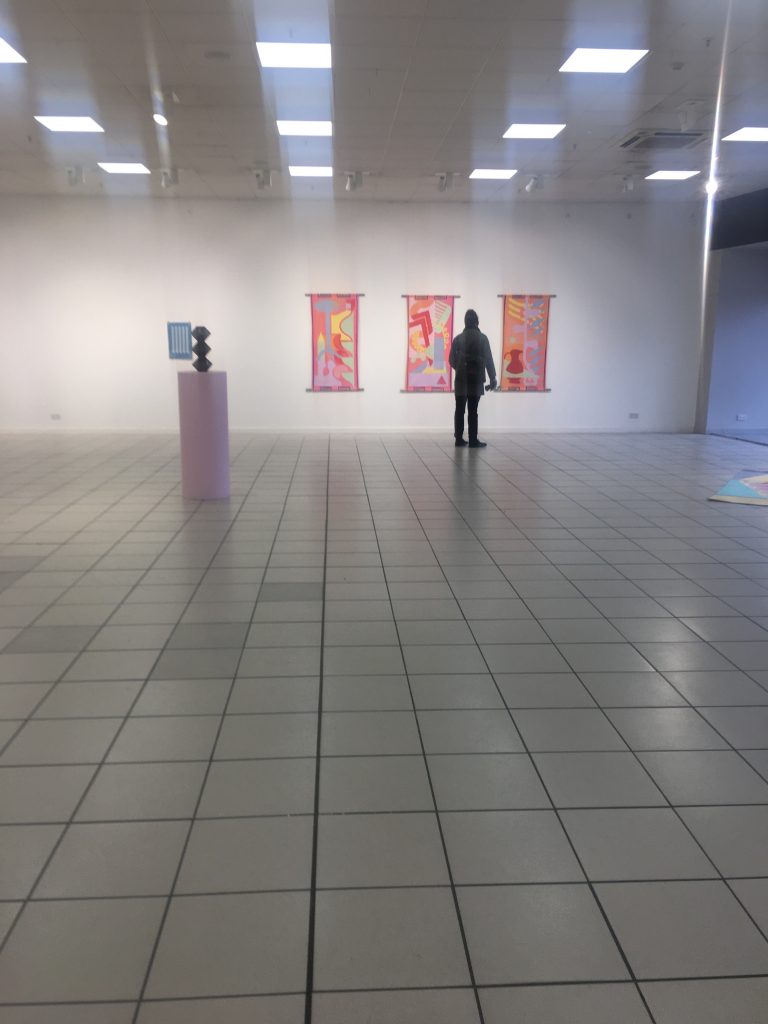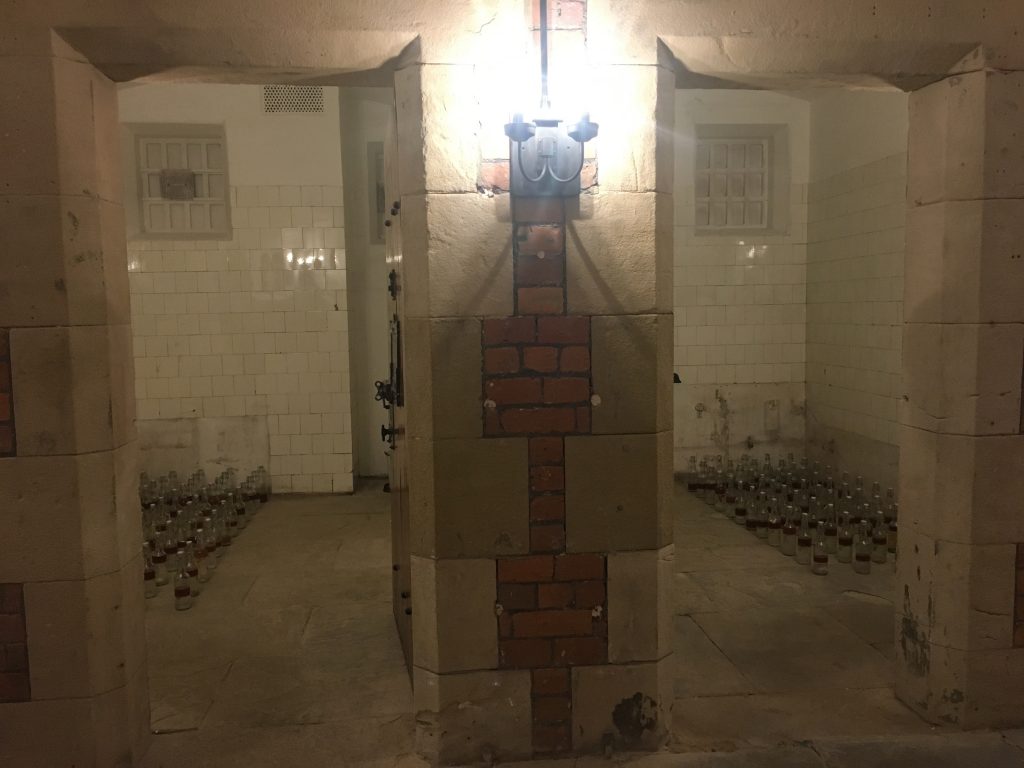 A lot of hard work  must have gone in to producing and curating Middlesbrough Art Weekender 2018, there were some big spaces and all felt fresh and thoughtfully presented.  The technical expertise applied and the vibrancy of the light, sound, moving image and installation pieces was delicate, relentless and creative – I didn't notice anything on my two visits that felt technically compromised but there was a sense of energy and exploration throughout.  Late Sunday afternoon, as the Weekender was coming to a close, it was nice to sense the energy that was still on the street and in the participating spaces.  I found the Weekender print well designed and useful – I do like a map.  Friendly and visible people representing the programme encouraged me to step inside and explore those unfamiliar settings I encountered.  To me, Middlesbrough Art Weekender felt like a work OF progress.  Light, colour, sound, conversation, exploration, it was a pleasure.