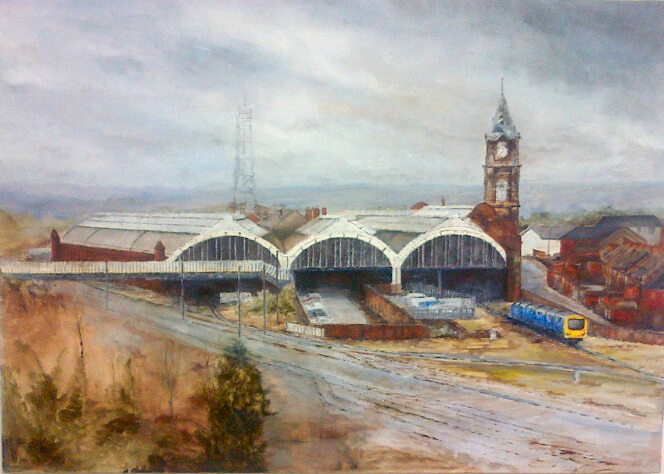 Julie Macbean, Crown Street Art Gallery Exhibition, 2013
Darlington has a significant role in railway heritage, with the bi-centenary of the first railway passenger journey on Locomotion No. 1 on the Stockton & Darlington railway in 1825 fast approaching in 2025, two active railway stations, Bank Top and North Road, the Head of Steam railway museum  and a number of key buildings and sites, including the track-bed of the Stockton & Darlington railway running through the borough.  The railways, both in Darlington and worldwide, have been a rich source of inspiration for creative practice and exploration, helping people travel and explore, meet new people, exchange ideas, visit new places, as regular commuters or on journeys home. Click the box below to find out more about the current programme 'Heritage on Track'. 


Heritage on Track is delivered by Groundwork NE & Cumbria and  Tees Valley Arts on behalf of Creative Darlington and is part of Great Place Tees Valley.


Creative Darlington has supported a number of artists and been involved in promoting programmes or events creatively exploring our railway heritage, including performing arts and visual arts activity. An example of which can be found here. Cath Campbell created miniature models of railway stations linked to the story of Elizabeth Bidder who, at 18 years old became part of a ship's crew accompanying Robert Stephenson. 
In 2014-15 artist Sara Cooper worked with a local primary school as part of her Collections artist-led project. Pupils explored the Head of Steam Museum, made maps of their walks around the collection and created artworks in response to railway artefacts and stories.
Collections Project, Sara Cooper, Head of Steam Railway Museum. Photo Credit : Jason Hynes
Artists, including Julie Macbean and Stephen Bainbridge have also developed and shared exhibitions informed by railways in Crown Street Art Gallery.  The Head of Steam railway museum programmes regular exhibitions and events, frequently involving practicing artists and organisations.