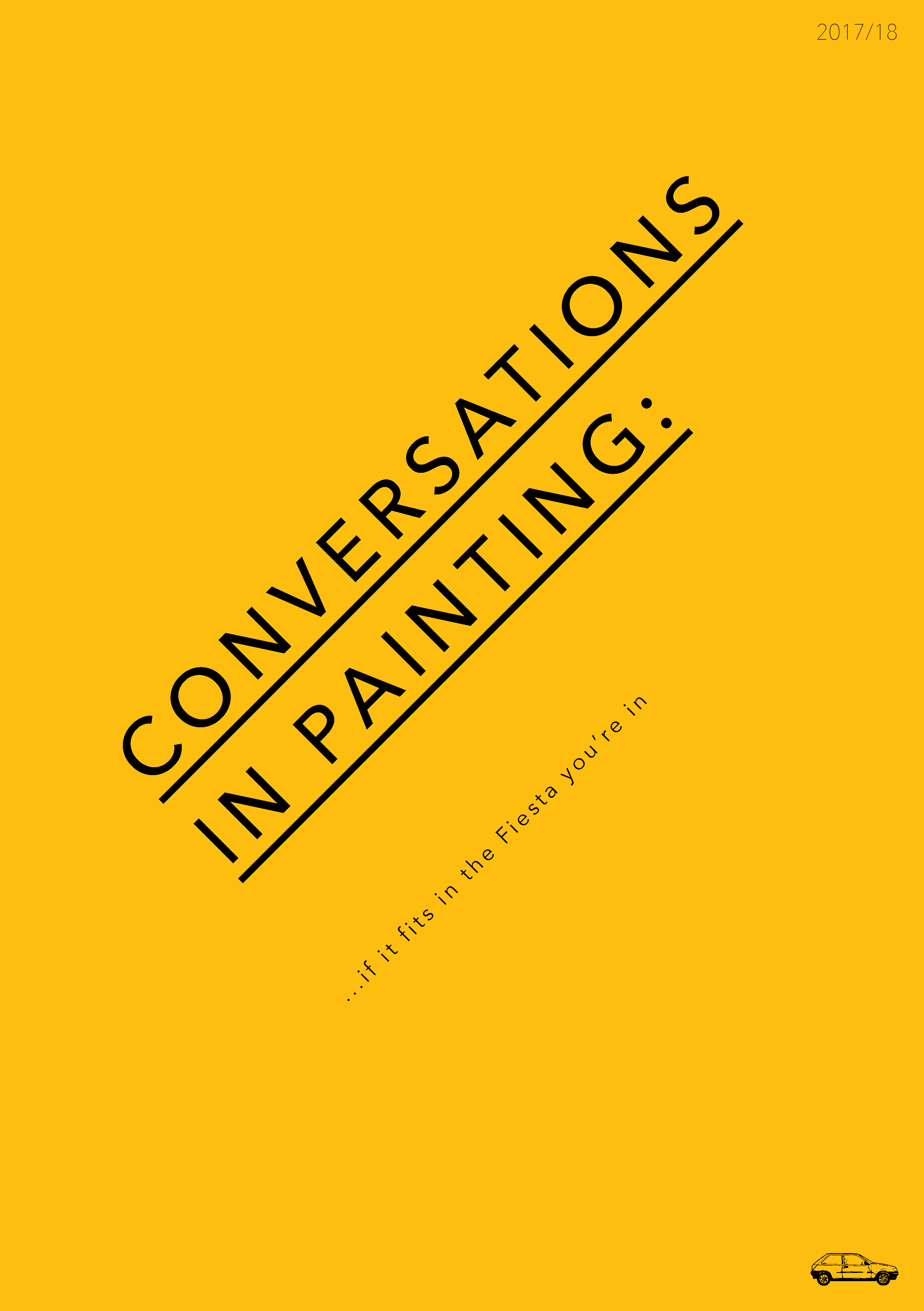 Conversations in Painting: 'if it fits in the Fiesta you're in…' present an exhibition of new and recent paintings at Crown Street Art Gallery, Darlington – Saturday 14th October until Thursday 9th November 2017 – showing work made by a group of practitioners distinctly placed in their personal trajectory who sustain a direct connection with the Tees Valley. A collaboration of emerging, established, national and international artists whose collective expertise represents a diverse range of interpretive approaches. Artists commissioned to make work for this show are: Sarah COONEY, Deb COVELL, Gordon DALTON, Philip GATENBY, Neil McNALLY, Remy NEUMANN and Alicia PAZ. This project seeks to understand more about how visual arts culture operates in the Tees Valley, especially so through its focus on painting. Conversations in Painting… is an artist led project initiated by Sarah Cooney and Philip Gatenby in partnership with the independent curator Kerry Harker, a co-curated selective review of non-representational approaches to fine art practice.
The exhibition is set in the conventions of the white box gallery as a 'performance space' for shared conversational dialogue between participant artists and the public. Public events and workshops scheduled throughout the duration of the gallery show will host visitors, guest practitioners, curators, writers, students and invested members of the public as co-participants in panel discussions and seminar groups including the opportunity to participate in artist led painting workshops.
Documentary notes and recordings of conversational dialogue at these sessions are regarded as essential reference for inclusion in the project catalogue published at the end of the project to advocate the further progress of painting in the Tees Valley. Real time activities taking place throughout the public exhibition will be shared via a dedicated project website, incorporating documented critical writing, co-participant notes and recordings disseminated through the project blog and by partner organisations.
This artist led project appreciates the support of key funders: Arts Council England (GfA Award) and Darlington Borough Council, and partner support from: Creative Darlington, Navigator North, Platform A Gallery, The House of Blah, Blah and The Auxiliary.
Further information can be found on the project website www.conversationsinpainting.co.uk