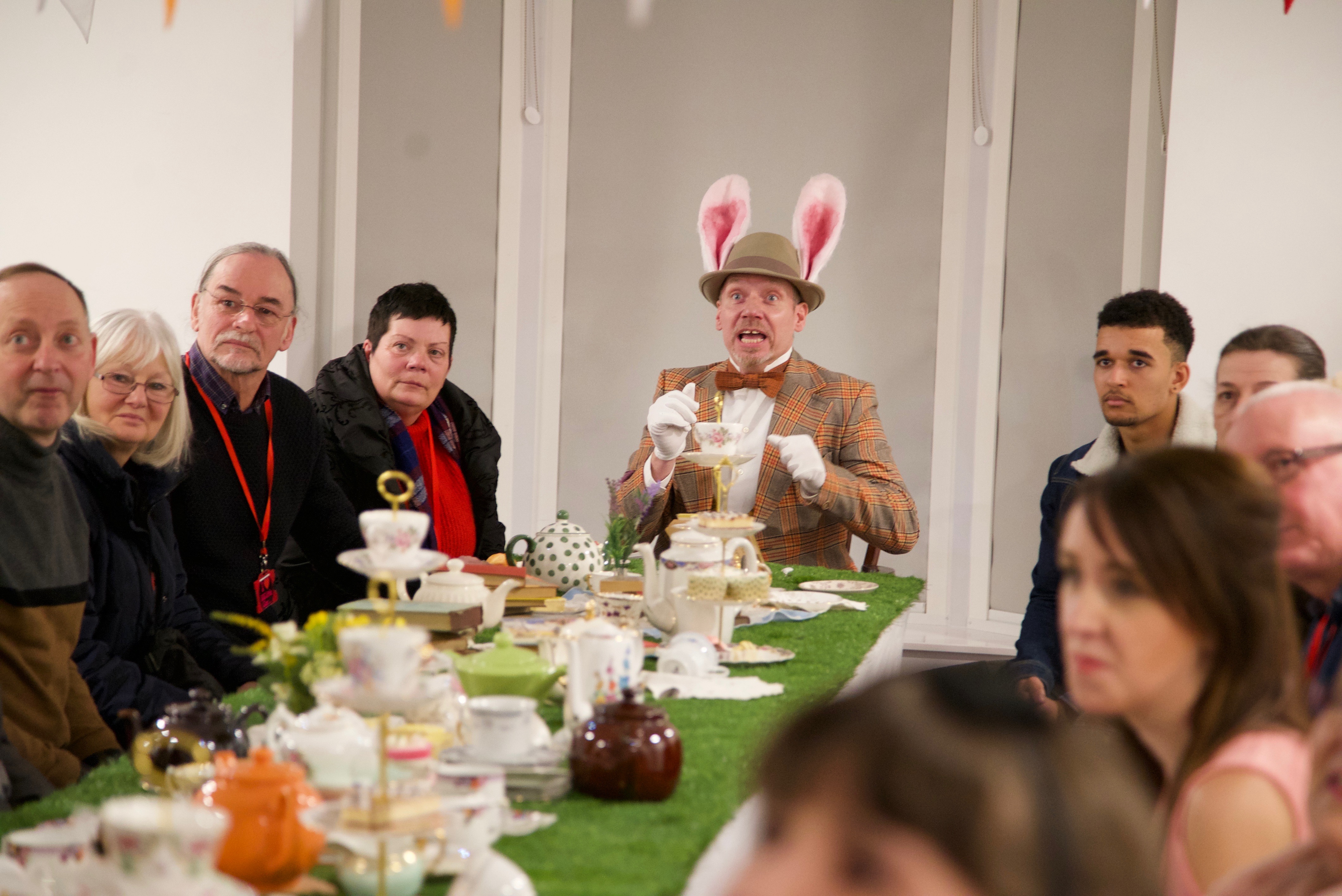 Congratulations to Darlington Hippodrome, ODDMANOUT and all the people who contributed to 30 great performances of Anywhere (5 matinees and 5 evening performances per day no less) at Darlington Hippodrome from Friday 2 February to Sunday 4 February 2018.   Each promenade performance took around 50 minutes to journey around Darlington Hippodrome, but thanks to some fantastic staging, some theatrical magic, amazing energy, and meticulous timekeeping new shows set off every half hour.  With my comfortable shoes, I was part of a happy party of explorers on the second show of Saturday evening.  This came to a close just as another was setting off.  It was great to see smiling people heading off to discover Darlington Hippodrome as a place that can take you anywhere, when I knew my experience had lived up to the billing.
I didn't count the number of performers, but it appeared tens of talented people from Darlington helped fashion these fantastic shows working with Darlington Hippodrome and ODDMANOUT.  The show began near the ground floor entrance and proceeded to journey around the theatre.  Fish and actors used to be brought to Darlington and travel on the same train and the show began with both heritage and a splash of singing, with people encouraged to join in, and some comical speculation on which may have smelt worst.  A trio of stern top hatted businessmen gave a nice contrast to this Fish Train jollity and this helped to grab my attention to start with.
It was nice to be playfully engaged in Anywhere during my journey round the theatre and to have fun within a party whilst gaining some new insights into its heritage.  The participatory aspects of the show were really well judged (I managed to hide jam tarts, play a tin bucket and brush, dodge some faux snowballs and walk arm in arm with a pantomime dame during Anywhere, but  everyone was encouraged to explore). One of the highlights for me in this respect was the Mad Hatters Tea Party element, where I hope everyone will have felt involved whilst sitting down at the table.  I also liked the snow queen element of Anywhere, which felt like a real change in temperature/out of the bright lights, and helped to communicate the theatre can take you anywhere message.
Various performers took turns in leading the party into different adventures, there were fantastic changes in pace and tone, from three actors battling over the Signor Pepi role in the main theatre to a blissfully and beautifully costumed Cheshire Cat welcoming us to the next floor up.  A variety of Shakespearean,  Alice in Wonderland characters, entertainers, impresarios and virtuoso performers  from different ages, helped create a time travel/anything is possible feeling.   The wonder of language was to the fore, the Shakespearian sections travelled the ocean blown, romantic and backstage mechanics of devising theatre.
I particularly liked a Shakespearian section focused on the rigours of rehearsal set within one of Darlington Hippodrome's beautiful changing room upstairs, with actors engaging with both their peers and their mobile phones and it was also nice to hear the catchphrases of more recent celebrities given voice and applied to Anywhere.  I was pleased to see participants in Dickens in Darlington working together again on work of this quality and to see different generations working to bring something so original to life.  There was little on the night  I could have imagined,  despite having a reasonable knowledge of the heritage of Darlington Hippodrome, and there were some moments that really helped encourage insight into the life of Signor Pepi and which helped me better understand the mechanics of backstage and joy of theatre.  Anywhere was, in my view, another great chapter in the ongoing Darlington Hippodrome story.